Kindred Hospital Charleston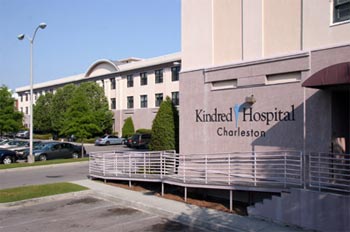 Kindred Hospital Charleston is one of Charleston's only private extended care hospitals in the community and provides both modern technologies as well as quality healthcare. The hospital is a branch of the nationwide Kindred Healthcare system. Patients with ongoing medical conditions and complex medical needs are referred to the hospital whether it is because they require an extended stay or the treatment they require is not available at other places such as a rehabilitation facility or a skilled nursing center. The 59-bed Kindred Hospital Charleston is licensed as an acute care hospital, certified by Medicare, and accredited by The Joint Commission. The Medical staff of more than 100 physicians and other caregivers provides patients with a personalized experience. They strive to care for patients in a way that will make them feel comfortable and special. Kindred Hospital Charleston is located on the third floor of Charleston Memorial Hospital and offers many services including Critical Care, Respiratory Therapy, Dialysis, Nutritional Therapy, Wound Care, Special Procedures, Infection Control, Speech Therapy, Pharmacy, Physical and Occupational Therapies, and individualized case management. Kindred Hospital Charleston is pleased to provide the city of Charleston with excellent healthcare as well as excellent advancement in the best and latest technologies.
Kindred Hospital Charleston
326 Calhoun St., Charleston, SC 29401
(843) 876-8670
www.KHCharleston.com
# of Beds: 59
Year Built: 1996

Would you like this content on your website or do you have any questions about this article? If so, contact publisher@mediaservices1.com.